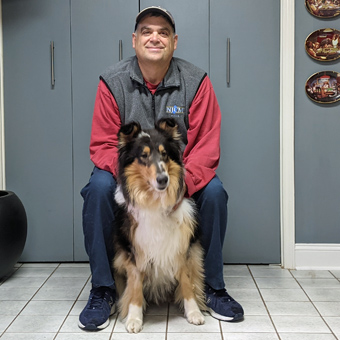 2/7/21: This big man is headed to his new home with Gary. I will be meeting mom when we get there and she has been looking at my picture every day. She knew I was the right one to join the Stevenson Family.
1/10/21: Because of COVID my person lost her job and could no longer provide for us so I came to the rescue. I'm the big guy here at 88 pounds which is way to much for me. Needless to say I am on the green bean diet until I lose about 18. I'm a three year old, tri collie fellow with very good house manners. I'm also crate trained, great on the leash and know basic commands. Good with the other dogs and don't even mind that cat. When I go outside I bark to much. We are working on that but I'm not really getting it because I have a lot to say. My coat was shaved in the summer and it will come back pretty soon. My people will need to know I will have a tremendous coat and a lot to take care of.
Thank you Tracy Brewer for helping with my medical cost.