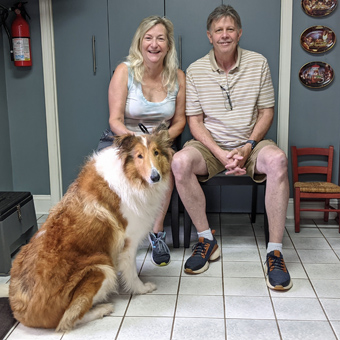 7/19/21: I am now a member of the Knapp Family. We had a long trip home where I met Dante that was also adopted from the rescue. We also have cats which I get along with really well. We are already going on walks together where I met the neighbors. Unfortunately they do plan to keep me on this diet and I am slowly losing the weight. I'm going to be very happy here with Hal and Kathy.
GREAT NEWS FOR ME: I went to the vet this week for some bloodwork and a recheck . All test came back negative and I DO NOT have heartworms or Ehrlichiosis tick disease. My staph infection has cleared up and all I need is a spay. We will wait until I have lost more weight before spaying and I have already come down 11 pounds. I love to play with toys and really like the cats.
7/2/21: I was picked up by animal control as a stray and taken to the shelter. Those nice folks gave me a good grooming and a bath. My coat had to be cut short because of the mats. I'm a 3 year old collie girl that is very overweight at 105 pounds. I'm on a weight loss program and that should come off quick. I do have a light case of heartworms that will be treated, Ehrlichiosis tick disease and a staph infection on my belly. As you can imagine I am on a lot of medicine. I have a wonderful, outgoing personality with good house manners and leash walking. I get along fine with the other dogs and the cats are ok with me.
Thank you Theresa Kleeman for helping with my medical needs.