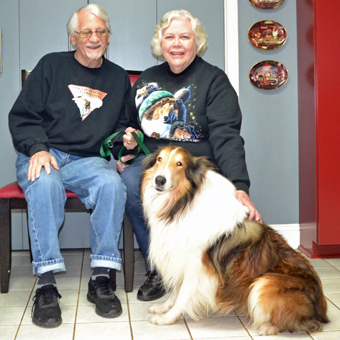 1/12/21: Headed to my new home with the Johnson's where I will be spoiled and loved very much. No more outside dog for me and I'm now a member of a real family. I'm going to try and be the best boy ever for B.J. and Susan. Thanks everyone who helped me on my journey.
1/10/21: I'm a six year old fellow at about 53 pounds. Most of my life I have been used as a stud dog. Now while that may sound like a glamorous life I can tell you it is not. Only being needed to do the deed I get no special attention. Once that is done it is back outside for me and I'm forgotten until needed again. Now I always look like I am smiling because I am so happy to be here at the rescue where I can be in the house all the time and I can no longer do the deed. I have mastered crate training, sit and good on the leash. I am good with the other dogs and the cats also. I'm doing good with the housetraining but sometimes can't resist in new places. That will get better as the testosterone goes away and that usually takes about a month. I ready to start my new life with a family.
Thank you Maria Maxwell for donating to help with my medical cost.