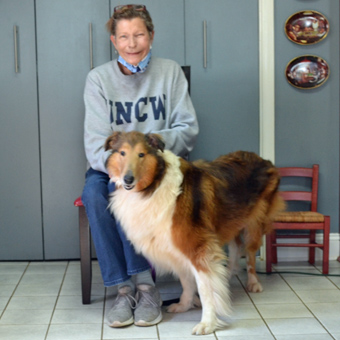 4/2/21: Folks, I have found the perfect home for me with Jamie. I will be the only dog and therefor receive all the attention. We like to sun in the backyard and I of course like to lay in the middle of the kitchen floor so I can see everything. We are going for short walks as I build up to a little longer. Thanks everyone that helped me to find Jamie.
3/20/21: Now my ears are healing and I have medicine to make them stop hurting and itching. I have also been spay and had my teeth cleaned. It looks like I am ready for my new home and hope someone will want to adopt me. I'm a little bossy with the other girls and would prefer to be the only dog or be with a male please.
3/9/21: We went to see the orthopedic surgeon today evidently so I could take a nap. While I was sleeping my leg and hips were x-rayed. When my leg was fixed years ago it wasn't done correctly so now my leg has healed incorrectly. This has caused this leg to shorten and throw me off balance. While they could go in and straighten my leg out they cannot make it longer. This means I would still have the limp and won't really help out at all. I've lived with it this long and although it may look like it hurts, it really doesn't. Next the allergy specialist is going to access my ears to see what can be done for the growths and this constant itching. Hoping for better news on this one.
2/28/21: I am a six year old collie girl that is a little overweight at 80 pounds. It will be a while before I can go to my new home because I have a lot of medical problems that can hopefully be corrected. I have a pin in my leg where at some time I was hit by a car. It hasn't healed right and my leg kicks out to the side. Putting so much weight on my other legs has caused my hips to be out of whack. I will be going to an orthopedic surgeon to see if anything can be done to fix my leg. I also have ear infections and there is some kind of growth in my ears that need to be removed. Then I will need to be spay and have my teeth cleaned. In spite of all this I live up to the Lassie name and the sweetest girl you will ever meet. I am housetrained, like the other dogs and even the cats. I love my crate where I can go in and take a nap. I'm not much on being outside and just do my business and right back in. Folks please keep me in your prayers and if you can help with my medical needs that would be greatly appreciated.
A special thank you to all who donated to help me get better: John C. Davis, Paty Cockrum, Joyce St. John, Lynn Howell, Thomas McFall, Barry Knapp, David Giusti, Karin Johnson-Page, Pamela January, Susan Veld, Samantha Falewee, Vincent Binek, Maureen Licata, Celes Jones, Suzanne King, Jan Wiley, Bobby Chastain, Carol Lightcap, Nancy Marks, Susan Cate, Tammie Krauss, Danita Morgan, Barbara Crockett, Charles Holmes, Barbara Minakakis, Shannon Burdick, Kim & Steve Jarrett, Anita Price, Peter Fisher, Hollis Kerfoot, Joel Kane, Susan Johnson, Virginia Coile, George Jensen, Nancy Sullivan, Sara Crayton, Jeryl Stoltz, Maria Maxwell, Stephen Fishel, Belinda Scortichini, Eric Oaks, Jerry Ford, Benjamin Correll, Jeff Burgess, Susan Huneycutt, Gale Davis, Kimberly Haupin, Teresa Hilburn, Belinda Black, Allen Walton, Jennifer Parham, Nancy Pergolizzi and Edward Settle