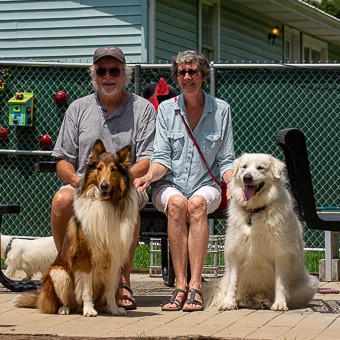 8/8/20: I will be joining the Bell Family today and this will be my new pal, Izzy. She is 3 years old, needed a playmate and I'm happy to say that will be me. Their last collie was a barker so they have experience with us talkers. It sure is good to be in my forever home with David and Simone.
8/1/20: Our new baby came early and has a heart defect. She will be having many surgeries so mom and dad were spending all their time at the hospital. They didn't think it was fair to me being home all alone most of the time so I came to the rescue. I am a 2 year old fellow at 60 pounds. I have good house manners with the housetraining and know basic obedience commands. I can sit, stay, come when told and ride well in the car. I'm pretty good on the leash and we are working on that. At my previous house we had 3 cats but I do like to chase them if they run. I'm going to the vet on Tuesday for my neutering and a bath. I'm good on the grooming table and don't mind being brushed. I enjoy playing fetch but a little ruff so trying to ease up on that. I get along great with the other dogs and really like the girls. Although a very smart fellow my only vise is barking when outside which we are working on. I just have a lot to say and want everyone to hear me. However Miss Jean has made some comments about relocating my head if I don't stop barking. So whoever adopts me must be prepared to say "Mac Quiet" a lot and not have neighbors that that will complain about me. Due to my energy I would be better with older children.
Thank you Sara Crayton and Deborah Brown for helping with my medical cost.