7/27/21: My people came today and I'm joining the Fisher family. I have met Abby and we are going for walks around the neighborhood together. I have my own dog bed and will be very much loved here. Thanks everyone that helped me to find Gabriela and Peter.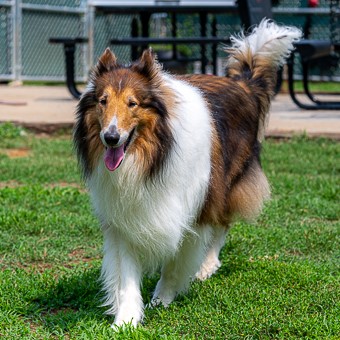 7/25/21: Went to the beauty shop this week and I am looking fine. I have lost a few pounds but this diet thing isn't for me and I am always hungry. I have met the cats and I don't mind them but if they run I will chase them. I also like to bark at them because that makes them run. Did I mention that I like to bark because I have a lot to say. However that gets me a squirt from the water bottle and trying to control the barking.
7/11/21: Nigel here, a six year old collie fellow looking for a new home because my people could no longer take care of me. I love toys and will play fetch with you. I enjoy going for walks on the leash and rides in the car. I am housetrained and don't need a crate. I'm very good with children and like the other dogs. I'm a big fellow about 80 pounds on a diet which I don't really care for.
Thank you Barbara Minakakis and Lynne Bishop for helping with my care.