Just this side of Heaven is a place called Rainbow Bridge. When an animal dies that has been especially close to someone here, that pet goes to Rainbow Bridge. There are meadows and hills for all of our special friends so they can run and play together. There is plenty of food, water and sunshine and our friends are warm and comfortable.
All the animals who had been ill and old are restored to health and vigor; those who were hurt or maimed are made whole and strong again, just as we remember them in our dreams of days and times gone by. The animals are happy and content, except for one small thing: they each miss someone very special, someone who was left behind.
They all run and play together, but the day comes when one suddenly stops and looks into the distance. His bright eyes are intent; his eager body begins to quiver. Suddenly, he breaks from the group, flying over the green grass, faster and faster. You have been spotted, and when you and your special friend finally meet, you cling together in joyous reunion, never to be parted again. The happy kisses rain upon your face; your hands again caress the beloved head, and you look once more into those trusting eyes, so long gone from your life, but never absent from your heart. Then you cross the Rainbow Bridge together…
*Author Unknown*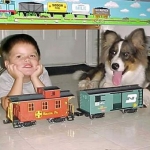 River & Liam: In August 2005 the Kegley/Rhodes family welcomed 6 month old River. He greatly enriched our lives, especially that of his soulmate Liam, For 11 years. Lymphoma closed River's bright eyes 9/26/2016...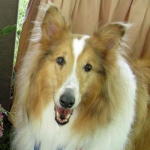 Sugar Rollyson: "A big, beautiful girl and almnus of CRC who was loved by everyone who met her. Now she and her sister Annie are together forever on the other side of Rainbow Bridge.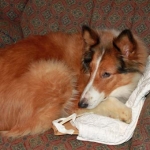 Gabriel: Gabriel was diagnosed with degenerative myelopathy, a progressive paralysis. With supportive veterinarian care and physical therapy (acupuncture, e-stimulation and passive range of motion exercise), she...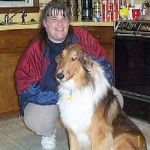 Scout: We adopted him in 2005. My mom and I picked him up so he could be a forever pet for my son, Alex. They were inseparable. Scout passed away from old age last Thursday. He was nearly fifteen.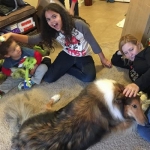 Sammie was a wonderful dog. Loved by many, big and small... missed by all. We loved her very much. We'll miss you Sammie! Love, Layla & Liam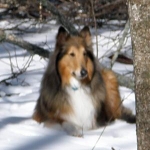 Luke was Mandy's partner and companion for ten years. He crossed the Rainbow Bridge and joined her 4/29/16. A sweet dog and missed so much. Thomas Boardley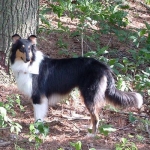 Mandy: I adopted a tri-color collie female from CCR in April 2006. She was the third dog I had adopted from CCR. She had just come in to the Rescue, and I'm not sure you were planning to show her, but I saw her...
Madeline Crockett was adopted in 2004 and was sweet and loving girl She was a wonderful companion and also had many doggie friends She was brave to the end with her medical treatments She will be so missed but is...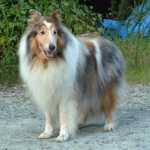 Sigfried had to leave us after seven loving years. He came to us from Collie Rescue after having been dumped by his breeder owner who abused him so much he could barely function around people. But, with love and...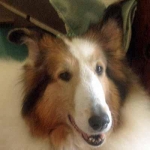 Flurry was a beautiful 10 year old white collie girl. She had been debarked before coming to the Collie Rescue, but she found her voice. This dog was a loving and gentle soul who brought so much joy to her adopted...