THE REUNION HAS BEEN RESCHULED FROM OCTOBER 3RD TO NOVEMBER 7TH DUE TO RAIN AND THE INCOMING HURRICANE. We have been very lucky for ten years but 100 percent chance of rain and high winds are just to much to deal with.
Jean Smith
*EVERYONE IS INVITED!  If you have rescued a collie, have a collie or would like to participate all are welcome.
WHERE:  Middle Tree Farm, 340 Old Cedar Dr, Pittsboro, NC
RSVP To:  Pennie at pennierunyon@yahoo.com or jsmith@collierescue.net and let her know you will be attending.  We would need to know how many people and as well as dogs that will be coming.
HOTEL ACCOMMODATIONS: La Quinta Inn and Suites Raleigh Cary, 191 Crescent Commons, Cary, NC, 27518. To receive the CRC rate of $79.00 per night with no pet fee.  Call 919-851-2850 ask for La Quinta Raleigh Cary.
REQUEST:  The farm is completely fenced however, please be sure your dog(s) have on a secure collar and are leashed.  You may also want to bring a crate for them to take a break in and a water bowl.  There will be water buckets placed around the farm also.  Bring a chair for yourself to take a rest from the many activities.
LUNCH:   The rescue will be providing hamburgers and hotdogs for lunch along with all the fixings.  Please bring a side dish or your favorite dessert to add to the food table.  We do request a donation be made to help defray the cost of lunch and there will be a donation jug on the food table.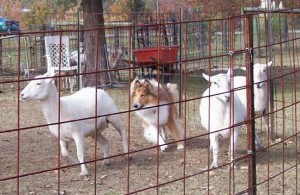 *The herding instinct test starts bright and early at 8:00 am and is on a first-come first-serve basis.  The fee for the herding test is $20.00.  Please sign up at the registration desk when you arrive so your dog's name can be put on the list.  Even if you do not plan to participate, come early and watch the other dogs give it a try.
*Canine Good Citizen (CGC) testing will be offered by the Piedmont Collie Club.  Per the American Kennel Club website, akc.org, The Canine Good Citizen (CGC) is a certification program that is designed to reward dogs who have good manners at home and in the community. The Canine Good Citizen Program is a two-part program that stresses responsible pet ownership for owners and basic good manners for dogs. All dogs who pass the 10-step CGC test may receive a certificate from the American Kennel Club.  There will be a $10 charge for each dog tested.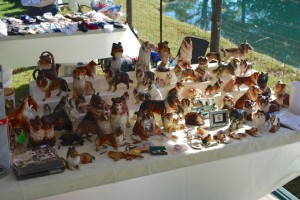 *As always the "Collie Shop" will be located under the "big tent".  We have lots of collie merchandise; toys, sweatshirts, socks, figurines and more for your buying enjoyment.  There will also be toys for the collies to do their shopping.
*There will also be a silent auction held with items up for bid.  If anyone has an item they would like to donate for the auction, please contact me at jsmith27107@triad.rr.com
*For those coming to the reunion on Friday, October 2nd we will have a gathering at Marla Dorrel Park, 111 Thurston Drive, Cary, NC 27518. It is 2 miles from our hotel and I have reserved the shelter from 5:00 pm until sundown. Dogs on leash are welcome at the park and please bring a dish to share.