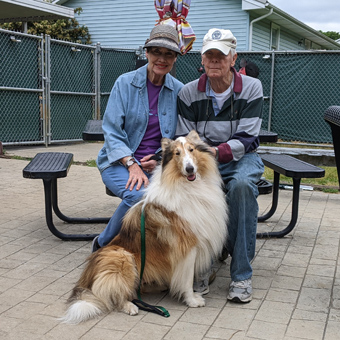 5/20/23: My new home is with Jim and Becky. They sure are glad to have a collie in the house again after their fellow passed and I sure am glad to have this great home. Jim and I go for long walks every day around the neighborhood. I have so many new toys to play with and a new bed to sleep on. This is going to be the perfect life for me.
5/7/23: Bennie here, a 4 year old fellow at about 53 pounds. My person had to start traveling for work and she felt like I was spending to much time by myself. I know basic commands, great on the leash and love playing fetch. I am a very smart guy that is great with the other dogs and cats are ok with me. I am working on that housetraining a bit because I feel the need to mark but neutering will fix that.
Thank you Susan Harrison for helping with my medical needs.