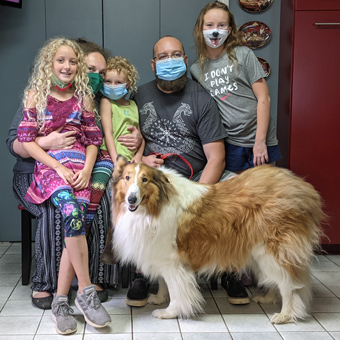 8/7/21: Will you just look at my three girls and they love to pet me. I'm so happy the Danks have decided to adopt me and give me a loving home. We are going to go for walks together and I know I will be spoiled.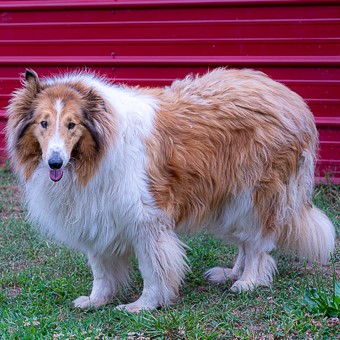 7/25/21: It sure has been a busy week with me going to the vet for a checkup, bloodwork and a bath. All was good and the vet says I am 6 years old which I knew. I like to lay in the doorway so I get a lot of exercise from being told get up and out of the way. I have lost a few pounds and started going on short walks. We always meet the cats along the way and we get along just fine.
7/2/21: I'm at the rescue because my folks were older and couldn't keep up with my grooming. I have always been an outside dog but now that I have learned about air condition I hope that never happens again. Heck I have already learned how to use the dog door. One of my people said I am 6 and the other said I am 10 so I am going to the vet for an evaluation and medical work. The folks are working on getting my coat back in shape and I am on a diet because I'm overweight. I get along with the other dogs and my evaluation is in progress.
Thank you Susan Veld for helping with my medical cost.