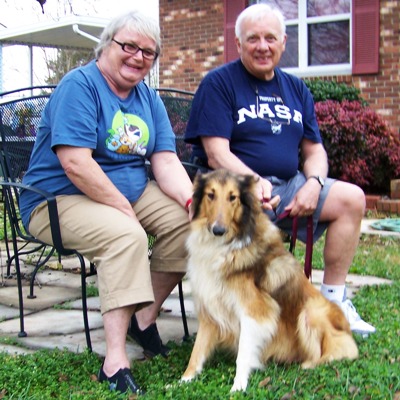 12/10/12:  Finally I am ready to go home with Judy and Bo.  They adopted me four months ago but I had to have heartworm treatment first and then I had the surprise litter of puppies.  They have been checking in to see how I am doing and visiting when they could.  I sure was glad to see them today and ready to start my new life just asCashmereand Angus have.  I know I have hit the good life because they have adopted many collies from the rescue over the years.  It was really my lucky day when I went to that animal shelter and Mikki came to pick me up.  I know Kitty and Diesel will find good homes just as we have.  Thanks everyone so much.
On Sunday the 21st I gave the rescue folks a big surprise when I delivered four puppies.  I was adopted some time ago but had to have my heartworm treatment then be spayed before leaving.  Well the spay appointment has been canceled at least for a few months any way.  Miss Jean let my new people know they now have grandchildren.  I am a single mother and their papa was a rolling stone, wherever he laid his hat was his home.  You know the song and the rescue folks have no idea what breed their dad was.  Here are pictures of the kids with two girls and two boys at 4 days old and I hope they find good homes like I have.  Please check back to see them change over the coming weeks.
10/20/12:  My name is Greta and I a three year old collie girl that was at the animal shelter.  I am the most gentle, kind and easy going girl you will ever meet.  There is not an aggressive bone in my body and not much on barking unless I need to go to the bathroom.  I love all humans big or small and great with the other dogs.  I had a light case of heartworms that have been treated and will be spayed this coming week.  I am housetrained and crate trained but do not need a crate preferring a doggie bed.
Thank you Greta Duckett, Kelly Anne Kasheta and Terese Bernstein for donating toward our care.