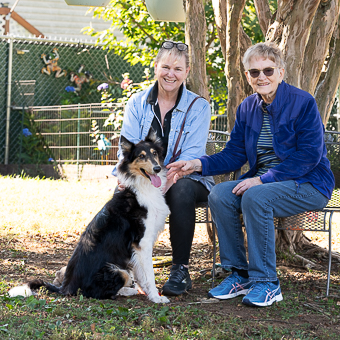 10/22/23: Carla and I are headed to my new home in Vermont. On the way we stopped at a hotel, and I hopped right in the bed with mom. I am learning to wear a seatbelt when we are riding and do wiggle a bit. I have a new Aussie friend and his name is Chandler. I can't wait until we can play in the snow together. Thanks everyone that helped me to find the perfect home.
10/18/23: I'm a 2 year old mama collie and those pups are my babies. We were part of a cruelty case where all the animals were taken. The folks called the collie rescue and we are so happy to be here. I'm a skinny girl at 45 pounds and lost all my coat when the puppies were weaned. I get lots of food and will gain weight and my coat will come back soon. I'm doing great with the housetraining and the leash walking. Learning basic commands like sit and down. I'm looking forward to having a real home where I will be loved and cared for.
Thank you Debra Brown for helping with my medical cost.