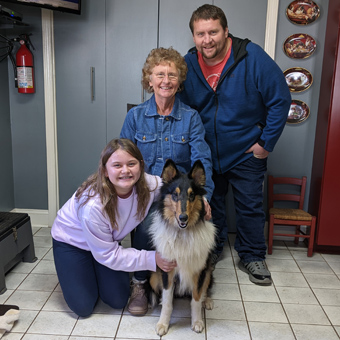 12/11/21: The Skinner Family drove a very long way to adopt me. I knew they were the ones for me the minute I met them. On the way home we stopped to spend the night at a hotel and that was pretty exciting. I was a very good boy on the ride but mostly slept. I'm going to have all the attention I want being the only dog and that suits me just fine.
10/31/21: I'm a 10 month old, tri collie fellow. My people could no longer keep me so I came to the rescue. Doing great with the housetraining and learning basic commands. I will be going to the bet for a much needed bath and neuter.
Thank you Shannon Burdick and Pamela Gregorczyk for helping with my medical needs.