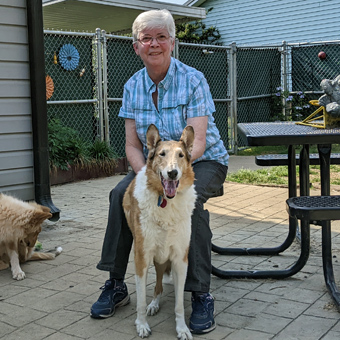 5/5/22: Pam has decided to give me a home to live out my senior years. It is much quieter here and there are dog beds to sleep on. I have met Lilly the collie who would like me to play with her but she has figured out that isn't going to happen. Also met the cat and we just ignore each other. I follow Pam around everywhere and stick by her side. I know my people are missing me and I would like them to know I will be just fine and well taken care of here with Pam.
5/1/22: I have traveled the world over with my family. I have just turned 12 years old a trip to Japan would just be to much for me. After doing lots of research they decided CRC would be the best place for me and drove 800 miles to bring me here. I have been very much loved and well cared for over the years. Being a smooth coat collie there isn't a lot of maintenance to my coat. I am housetrained, good with cats and other dogs and love my dog bed. A healthy fellow and up to date on all vaccinations and heartworm preventative. I can sometimes be a little grumpy but that is my right as a senior and please stay off my lawn.
The rescue realizes it is hard to take in a senior and love them as if they be with you forever. These seniors are suddenly without the home they have always known and need a friend to give them a place to live out their senior years. The seniors are like puppies without all the bad habits and always doing things to make you laugh. The rescue pays for all approved medical cost and all you have to do is love them. We do still require a fenced yard, vet check and home visit. Most of the seniors cannot do many steps.
Thank you Angelo Massari for helping me with my medical needs.