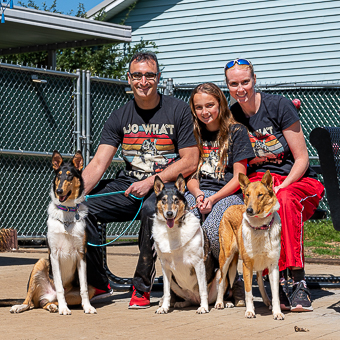 3/28/22: The Raj Family came today to meet the available collies. They have a fondness for the smoothies and adopted Dreamer in 2020. It was clear that Rush picked Dad, Liberty picked mom and we all love Asha. Although planning to adopt only one collie it was impossible to pick after seeing the way the three of us clicked together. Therefore, both Rush and I will be going to our new home together after our medical work is complete. We are so excited to be a part of the family photo (Dreamer in the middle) and joining this great family.
3/20/22: I am at the rescue because my person had a medical emergency. I am about a 2 3 year old, smooth collie girl at 40 pounds. I will soon be going to the vet for a bath and my spay. My evaluation is in progress as the folks get to know me. Please check back to see how I am doing.
Thank you Judith A Pheanis for helping with my medical needs.