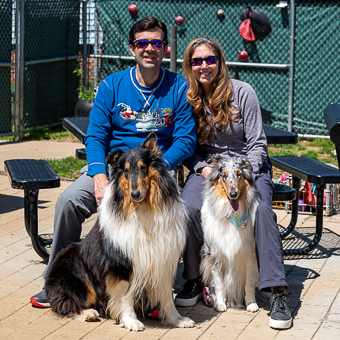 4/3/22: I have found my new folks and going home with the Marshina's and Ella today. It was a long ride home so Ella and I slept most of the way. This morning after breakfast we went for a long walk together. This will help me to get this extra weight off and back to my muscular self. After a nap Ella and I played some in the yard. I'm helping her to get over her shyness and a perfect job for me. I am so happy to be joining this wonderful family and never knew life could be so good.
3/27/22: Will you just look at me now, what a difference a bath has made, and I have lost 2 pounds. If you are looking for a fellow with a lot of personality that would be me. I am a favorite around here because I am always smiling and make people laugh. I like to go for walks, rides in the car and to play a game of fetch. I have been to the vet for my neuter and ready for my new home.
3/6/22: We came into rescue as a family. It was me, the little woman and our two pups that have been adopted. I was a great dad and took very good care of the family. We were all covered in fleas and ticks, matted, dirty and didn't smell very good. We were living out in the county with no fence and a free feeder that we ate from whenever we wanted, and this has caused me to get overweight. I am 7 years old, about 90 pounds and on a diet. The folks are working a little each day to get the mats out of my coat and then I will go for a much needed bath. I will also be neutered and no more babies for me. Due to all the ticks on me I do have Lyme disease and Ehrlichiosis. Both are bacterial illness that develops in dogs when bitten by an infected tick. I am on antibiotics, feeling so much better and hope this to be cleared up soon. I am a happy fellow and my tail is always wagging no matter what we are doing. I have had no problem with the housetraining and also crate trained. We are working on leash walking and basic commands that I am learning quickly. I am good with the other dogs and love to play.
Thank you Chelsea Reighard and Shannon Burdick for helping with my medical cost.