Jean is our president of the board and coordinator. She's been helping collies find their forever families for over 20 years. She loves bright colors, gardening, and of course, dogs!
Penny has been a board member for several years. She's also a regular volunteer in the grooming studio, as well as manning the CRC booth at street fairs and dog shows.

Cyndi has been a board member for several years. Paris (seen on right) generously allows Cyndi time to work for CRC on a weekly basis.
Ron and Marianne help with transports and home visits. They make a three hour drive once a month to groom and evaluate the collies in rescue.
Jeff has done many home visits, transports and events for collie rescue over the years. He has been unsuccessful at fostering and has adopted three collies.
Ann Owens comes almost every Saturday to help bath, groom, medicate and socialize the rescue collies. Also greeting and talking with the potential adopter that come to visit the collies.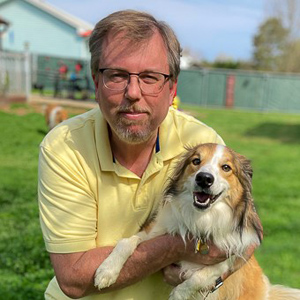 Tim is the official photographer here at the rescue. He comes every Saturday to take pictures of the collies for the website. Most of the time Miss Dove comes with him and she was adopted in 2019.
Ron and Phyllis Soler volunteer at the collie rescue on Saturday's and help with transports. They are also great cooks keeping the rest of us happy!
Volunteer Staff
How do you become part of CRC? Show up and pitch in. It's that easy. But what do you do when you've adopted all the collies that will fit in your house and you're still not satisfied? You pester Jean until she gives you something more to do. If that doesn't work, you come up with something yourself and pester Jean to let you do it. If you're persuasive, you get a job that pays in lots and lots of collie kisses and all the shedding you can handle. You also get the satisfaction of helping to save over a hundred lives a year. There's nothing like looking at your own dogs and knowing that another collie has found its forever home; another family will have the same joy your collies have brought you. It is not often that the chance comes along to be a hero . . . by doing paperwork. While our volunteers don't put on spandex costumes or leap tall building in a giant bound, every vet they call or form they complete helps to move our mission forward. They write computer code, create graphics, process applications, write grants . . . and you could be one of them! If you're interested in joining our staff, please contact Jean Smith (jsmith27107@triad.rr.com).
Emily spends her Saturday's here at the rescue training and petting the collies. She helps to evaluate them for the right home and take their pictures for the website. All the collies love her and enjoy their time together.

Abbie assists Jean in evaluating applications, making vet reference calls, and other clerical work. Her two forever friends, Sable and Donnie, both found her through CRC. They are happy to assist her, making home visits to possible adopters in the DC vicinity.

Beth has been our webmaster for over ten years, and has welcomed many fluffy CRC friends into her home. Through her business, ConnectNC, she and her sister continue to connect CRC, not only to the Carolinas, but to the world. In 2010, Beth adopted Lea, a very special collie girl with no ears.

John is our Facebook Group administrator/moderator. He protects us from advertising and spam, makes sure the latest updates get posted to the group, and is available to anyone who has concerns or questions about the group or it's content. All editorial decisions are reviewed by Sally (pictured) and Erwin, who assist him with home visits in the Southern VA area.

Our web developer, Damien Karolev, works to keep our site healthy and our visitors happy. If it's part of the website, he had a hand in making it happen. He's pictured here with Calvin, one of CRC's hard luck stories. Fully grown, when Calvin came into rescue he weighed only 36lbs. As you can see, 7 years later he's a happy, healthy 68lbs.

Alyssa MacLachlan works on graphic content and design for the website and other materials. She's also responsible for the doodles that keep showing up in place of the logo. Amber, knowing someone needs to be the adult around here, has been trying to keep her in line for 11 years.
Gloria comes on Saturday's to groom the collies and also helps out at events. She and her adopted collieJacksondo therapy work.