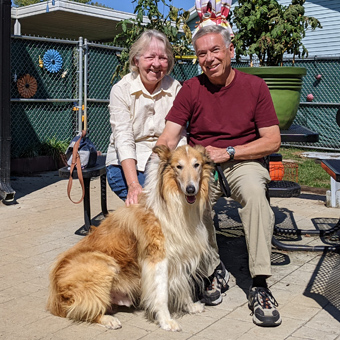 9/19/23: The Willemain's have decided to give this old guy a home. I'm going to live out my days being loved and getting all the pets I could ever want if that is possible. I have settled in, met all the neighbors and they love me. Jim and I go for a walk every day and he really enjoys having a walking buddy. I am so relaxed and content here and even started to play with my stuffed toys. I am so very happy.
8/7/23: Hello folks, my name is Sammy and I am a senior fellow at 11 years old. My folks felt like I wasn't getting enough attention so I came into the rescue to find another home. I'm a sweet, loving kid of guy that is housetrained and rarely ever bark. I enjoy going for leisurely walks and good on rides in the car. I would really like to be the only dog but I don't mind cats. I'm in good health and have been well cared for. I just need someone to love me while I live out my days.
The rescue realizes it is hard to take in a senior and love them as if they be with you forever. These seniors are suddenly without the home they have always known and need a friend to give them a place to live out their senior years. The seniors are like puppies without all the bad habits and always doing things to make you laugh. The rescue will pay for all approved medical cost and all you have to do is love them. We do still require a fenced yard, vet check and home visit. Most of the seniors cannot do many steps.