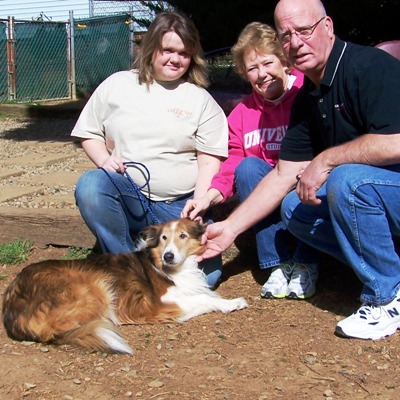 3/3/12:  It is time for me to say goodbye and I am going home with the Lotz family.  When they came to visit I was the only one they wanted to meet and I immediately liked them which is rare for me.  Yep I knew they were the ones even though this very southern girl is going north.  As the only dog I will have all the attention and they will let me sleep in the bed.  There is no doubt I will be spoiled rotten and much loved.  I'm going to miss Jean even though I found out calling me that old bag really isn't sweet.  I want to thank all my fans for believing in me and that I would find the right home.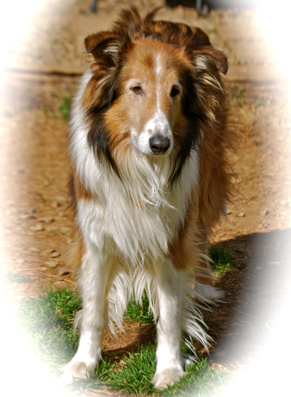 2/25/12:  Uh Oh got caught without my disguise and you have to admit I am looking pretty good.  My hair has grown back and I am no longer naked.  Miss Jean calls me "That Old Bag" and I think it means something really sweet.  There was a thunder storm the other night and she was a bit upset when I tried to sleep on her head.  However she sure doesn't mind poking those cold feet under me to get them warm.  I know you are all thinking I will probably stay here but Miss Jean says I could have so much more attention if I had my own home.  That might suit me because I like attention but ii will have to be the right people.  I will know when they come.
12/23/11:  I found this great disguise so no one will know who I am.  When people come to meet the collies I will just put on this wig so they will think I am a poodle or maybe Shirley Temple.  On the good ship lollipop, Its a night trip into bed you hop, And dream away, On the good ship lollipop.
11/24/11:  Finally getting a minute on the computer to let you know how I am doing.  After reading my story you know I have wormed my way into Miss Jean's room and also her bed.  Now I am going to let you in on a secret and please don't tell.  I have no intention of going anywhere and I hide in the bushes when people come to adopt.  With so many here right now she usually forgets to look for me.  It would have to be some really special folks for me to want to leave this good life.  I will keep you posted on the progress here when I can get computer time.  PS:  I can see just fine and thought the glasses would make me look smarter.
9/4/11:  Miss Jean has six dogs of her own that sleep in her room.  However I have now joined the group and I just can't ell you how much I love this big bed.  Her other dogs aren't very happy about me planting myself on a pillow and taking their spot.  If you have one of these beds and wouldn't mind sharing it with a snuggle bunny, I'm your girl.  By the way I have never had an accident in the house and will let you know when I need to go out.  Now Tallulah the westie and I have become good friends and we love chasing each other around the yard.  Here is a short movie of the two of us playing.  http://youtu.be/Co4dQhs3GEk 
8/19/11:  Uh, wait a minute folks.  I am rethinking my position about not coming in the house since I found this great bed.  Do all humans have these in their houses and if they do I would like that very much.  Now that I think about it the house is so much cooler and I never knew it could be so great having spent my entire life outside.  I have no problem with housetraining and know where that is to be done.  I love all humans and children that come to visit.  I am also a very good watch dog and will let you know when a stranger comes around.  My coat was shaved before coming into the rescue but it will grow back soon enough. 
7/30/11:  Pleased to meet you and my name is Shanna.  I am about seven years old and one sweet girl.  Some folks found me as a stray and gave me this really cool haircut that allows everyone to see my beautiful collar.  Now although I have very good house manners I am pretty much a country girl and prefer to be outdoors.  I like to come in the house to eat and take a nap to get out of the heat but I prefer to sleep outside.  It doesn't matter if it is raining or thunder storming I'm just an outdoor kind of girl.