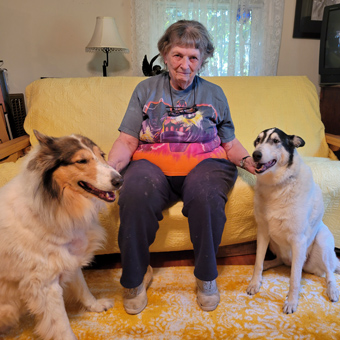 7/11/21: I have joined Paty and Lance in their home. There is lots of play time, butt rubs, treats to go around and beds everywhere for us. Best of all there are no cats that I have to patrol. I know I am going to be really happy here with them and have settled in just fine.
6/6/21: Ten year old white, smooth collie lady. Housetrained, gets along well with others and great on the leash.
We realize it is hard to take in a senior and love them as if they be with you forever. These seniors are suddenly without the home they have always known and need a friend to give them a place to live out their senior years. The seniors are like puppies without all the bad habits and always doing things to make you laugh. The rescue pays for all approved medical cost and all you have to do is love them. We do still require a fenced yard, vet check and home visit. Most of the seniors cannot do many steps.