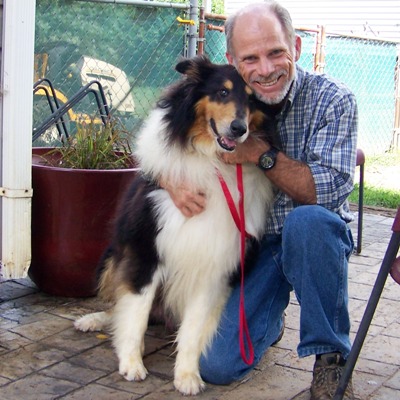 7/14/12:  Today Jim came to meet the collies and he originally thought he wanted a younger collie until he met me.  My new name is going to be Prayer because Jim says I am the answer to the many prayers he said for a faithful companion.  Jim and I live on a large farm and I follow him every where.  Looks like my prayer has been answered also!
 7/7/12:  Thanks to the folks that donated toward my heartworm treatment and doing well now that it is completed.  This coming week I am going to be neutered and then I will be ready to go to my new home.
 5/12/12:  They call me Steeler and like the Cowboy I think it has something to do with football but don't really understand.  I am a tri color, male collie and my date of birth is 8/28/03.  My coat wasn't as bad as the Cowboy's so I didn't have to be shaved.  I have only been here a couple of days and understand I will have my teeth cleaned and be neutered before going to my forever home.  Unfortunately I also have heartworms that will need to be treated.  I am in great health but due to my age the rescue would like to place me in what they call a permanent foster home.  This is where the rescue will pay for all my medical needs and all you have to do is love me the rest of my life.  If you would like to help with my medical needs just hit that donate button and say it is for me.
My grooming was sponsered by Amanda Cox
Thanks to Rosemary Foley for donating toward my medical needs.