10/29/22: When I came to the rescue I was scared and shy. It didn't take me long to do a 180 and decide I was ready for the good life. When The Keath's came to visit I knew this was the family for me and these are my boys. I am learning so many things but the stairs are a bit scary. I have a two year old dog friend that is a Pyrenees/Retriever mix. We play together and she is showing me how to be a good family member. It sure was worth the long journey to NC to find my forever home. Thanks everyone that help me to find the Heath's.
10/23/22: Will you just look at me now and I'm a new man. I have had a nice bath and a good brushing. My coat is a little choppy, but it will grow back. There is nothing shy about me now and I love people. I'm learning about being in the house and other basic commands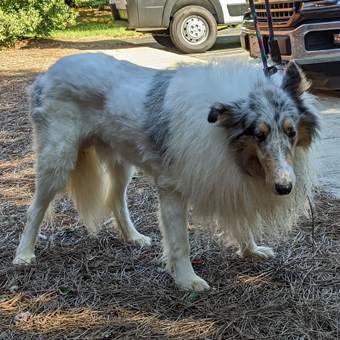 Three year old male from IL with evaluation in progress.
Thank you Thomas McFall for helping with my medical needs.