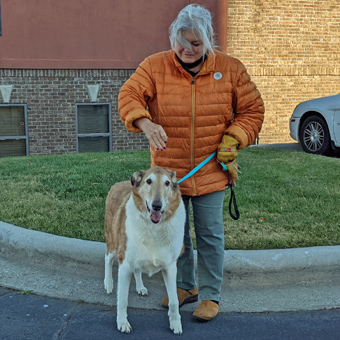 11/12/21: Lucky for me Trish has a weakness for the smooth collies and I'm going to live out my senior days with her. She has another smoothie fellow just like me that was also adopted from CRC. I have learned to go up and down the stairs to get in and out of the car so that we can go places together. I think I am really going to enjoy living on this little farm with all the critters.
10/31/21: Please to meet you and I am a 10 year old smooth collie fellow. I have gained way to much weight and now on a strict diet. I have great house manners and enjoy going for walks which I really need. I'm fine with the other dogs and haven't been tested with the cats yet. I'm a very gentle easy going kind of guy. I am at the rescue because my person is moving out of state and not taking me.
The rescue realizes it is hard to take in a senior and love them as if they be with you forever. These seniors are suddenly without the home they have always known and need a friend to give them a place to live out their senior years. The seniors are like puppies without all the bad habits and always doing things to make you laugh. The rescue pays for all approved medical cost and all you have to do is love them. We do still require a fenced yard, vet check and home visit. Most of the seniors cannot do many steps.
Thank you Susan Hopkins, Landee Roth and Judith Gast for helping with my medical needs.