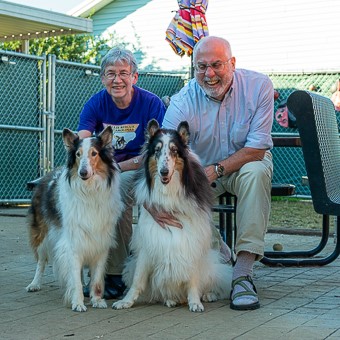 11/13/21: They say some things are just meant to be and that is exactly what happened for us. Ron and Marianne were visiting at the rescue the day we arrived. They helped us get settled in with giving us lots of pets and making us comfortable. It seems we stayed on their minds and couldn't stop thinking about us. The next day they called the rescue to say they would like us to come live out our senior years with them. What a blessing for us getting to stay together and going with folks we have already met. After going for a walk and meeting the neighbors we settled right in just as if we had always lived here. Oh yes, it was meant to be.
11/1/21: Our owner unexpectedly passed away, then they cleaned out our house and we came to the rescue. As you can imagine we have been through a lot lately. We have been together all our lives and can't imagine not having each other. We are going to have our medical work done and will get some grooming this week. We are looking for a home where we can stay together and someone will love both of us during our senior years. Vala 13 (white) and Minnie 10 (sable)
Thank you Barry Knapp and Rosemary Aja for helping with our medical needs.