7/10/22: I have picked out the fellow for me and happy to say I am now Rodney's new buddy. After raising my little family this was just the kind of home I was looking for. We enjoy relaxing on the couch together and I sure did need some rest and all the attention just for me. Rodney knew I was the one for him the minute he saw my picture and pestered Ms. Jean weekly to see when he could take me home. I am so happy and thanks everyone that helped to make this possible for me.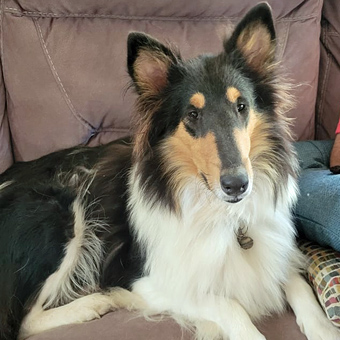 7/3/22: My babies have all gone to their homes and I'm ready for mine. I will be spay this week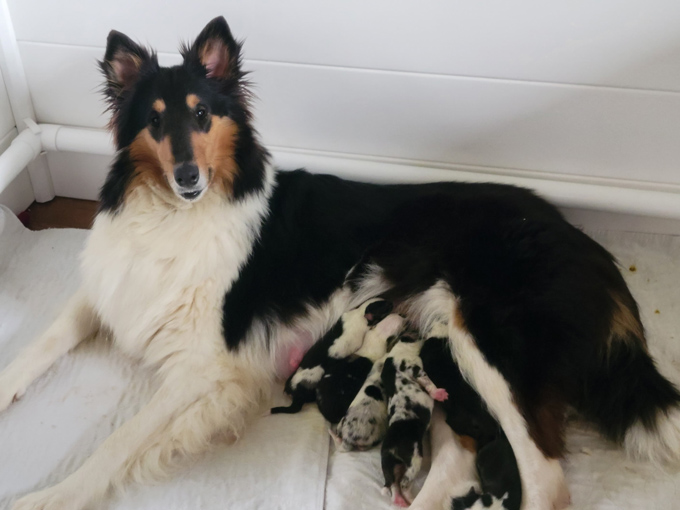 4/10/22: They are here! Seven beautiful, healthy babies with four girls and three boys.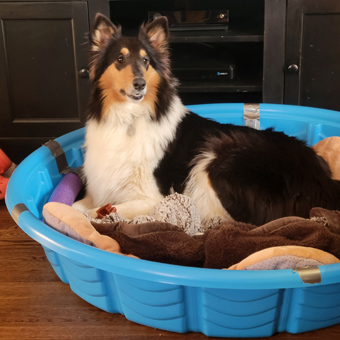 4/4/22: Can you guess what is going to happen here? When I went to the vet for my spay it was determined I'm going to have puppies real soon. Miss Loreen has taken me home with her to whelp my puppies and it is much quieter here. Everyone is going crazy with excitement, ordering supplies, listening to their heartbeats and sticking that thermometer in my rear all the time. I know what I am doing and will keep everyone posted on the progress.
3/20/22: I am at the rescue because my person had a medical emergency. I am about a 2 year old, tri collie girl at 50 pounds. I will soon be going to the vet for a bath and my spay. My evaluation is in progress as the folks get to know me. Please check back to see how I am doing.
Thanks everyone that has sent supplies and donations to help me and my little family